James Kelly's dream golf course has turned out to be a dream-come-true for Berkshire County golfers as well.
Donnybrook Country Club, which opened in 2008 and is the county's newest course, offers everything a golfer could ask for in a nine-hole layout. We're talking country club-like conditioning, challenging holes on beautiful rolling terrain and scenic views to match any in the area. All that with affordable greens fees and membership plans.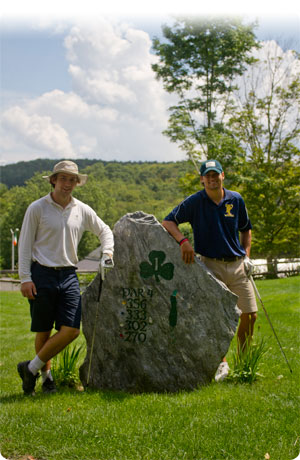 There are also multiple tee options that makes it play anywhere from a forgiving 2,426 yards to a testing 3,338, meaning most can find a tee box that suits their games. Play two different sets of tees in an 18-hole round and it's like playing two courses.
Kelly, 75, the former operator of Brodie Mountain Ski Resort, owns the course and is involved in its operation with sons Matt and Doug. Don't be surprised to see Doug mowing a fairway if you play.
"If someone doesn't show up for work, I'm out there," said James. "Any golfer who hasn't played here is missing the premier course in Berkshire County. I wouldn't have built it if I didn't think we could do that." Kelly and his sons certainly know every inch of the hilly 200-acre site. He bought what was then Chadwick Farms 39 years ago and renamed it Donnybrook Farm to reflect his Irish heritage. That heritage isn't lost on those who play Donnybrook, either. An Irish flag flies above the club-house and the big rocks that provide hole information are decorated with shamrocks. The family lived in what is now clubhouse–( general manager Matt estimates the building dates back to between 1756-80)– for more then 20 years. And all were heavily involved in the design and building of the course. While those at other clubs may want to debate James on whether Donnybrook is THE best in country, it's certainly on the short list, fun to play and in spectacular shape from the tees all the way to the large, undulating greens.
Course superintendent George Wilkinson has the course, and especially the putting surfaces, in peak Condition as June dawns. "George is doing a great job and he has a good crew," Matt said. "The course is always in great shape. We bought the best equipment we could buy," James said of the ingoing effort to have a well-groomed facility.
The Kellys' also own the land on the east side on Route 7, where they used to operate a Nordic ski area. They have mapped out another nine, but haven't decided whether to undertake that project. While all nine holes are memorable, here are four that make it worth the trip:
No.3, par 5: This hole can play from 407 yards to 606. See what we mean about the teeing options? One of very few 600-yard-plus holes in the area, it's a bear from the tips and still long enough to challenge the best from the blue tees (553 yards).
The big trouble is to the right, which is guarded by a forest. Hit it there and you can kiss your ball goodbye. The second shot needs to be threaded between the woods and a bunker on the left. The green is wider than it is deep and guarded by another bunker on the left.
No.5, par 5: Hole ranges from 356 yards to 486. The back tee offers a spectacular view and presents golfers with a daunting tee shot (see above photo). Sitting well above the fairway, the aiming point is the bunker beyond the fairway on the dogleg right. Trouble lurks on both sides. From the lower tees, the shot isn't nearly as scary and a good drive can set up a possible birdie.
James believes the green is the county's largest. It's perhaps 40 yards deep, making club selection key. To the right and behind the green are large drop-offs that create blind pitch shots.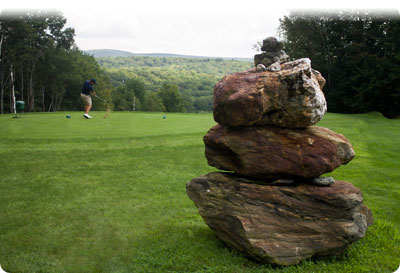 No.8, par 3: Ranges from 120 yards to 202. Another spectacular hole visually with the green sitting 100 feet below the back tee. Hit less club than you think you need or you'll probably go long. The green is tough to hold. Get out of here with a par and you'll run happily to the ninth tee.
No.9, par 4: Ranges from 275 yards to 360. It's not a long hole but is memorable, especially because of the spectacular stone wall – Yankee Magazine says it's the longest such wall in New England ¬– that runs almost the full length of the hole.
The hole also features a green guarded by a pond to the left that can catch tee shots hit too far, making a fairway wood or hybrid a good choice off the tee.
James, his sons and workers – many of whom also worked for Kellys at Brodie Mountain – constructed the massive wall, a long, tedious project. He estimates the rock closest to the tee weighs 37 tons.
"It took us six hours and two machines to move it," James recalls.
The wall earned James the nickname of the "Rock Star of Lanesborough" from on journalist. Some refer to the course as Stonehenge for that wall, a shorter one that sits above it and another behind the eighth green.
When he started building the wall, Joe Toniatti, Kelly's head snowmaker at Brodie who now works at Donnybrook, knew a golf course was on Kelly's mind. "Cows don't like looking at stone walls, so I knew the course was on his mind," Toniatti said. The cows' loss has been the golfers' gain.
Donnybrook at a glance
Holes: 9 Par: 36
Yardage: 3,338 (Gold tees), 3,038 (Blue) 2,760 (White) 2,426 (Red)
Course rating/ slope: 74.2/139 (gold) 70.8/135 (blue) 65.0/125 (white) 69.2/124 (woman's rating from red)
Leagues: There are men's and women's leagues. Call course for details.